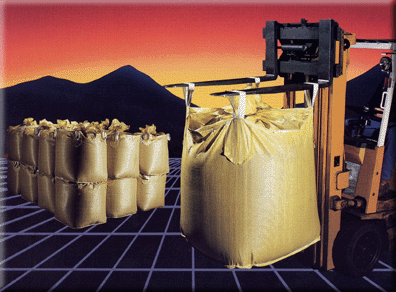 FLEXIBLE INTERMEDIATE BULK CONTAINERS
Big Bag moves your company into the future of packaging and maximizes the efficiency of material containment, shipping operations and unit cost control. Each moisture-resistant flexible bulk container is manufactured from woven polypropylene fabric with webbed lifting straps. Static inhibitors and ultraviolet treatment are also added. Big Bags are engineered to accommodate dry or semi moist flowable materials. Available options include a variety of fill and discharge spouts, as well as crane loops for single point pick up, rope locks for controlled remote discharge and inserted polyethylene liners. In addition, Big Bag Corporation has the capability of imprinting your company logo, information warning labels or customized specifications. Document pockets may be added to each Big Bag.
Products currently being shipped in our Big Bags include mineral products, foodstuffs, DMT, chemicals agrochemicals and feeds, cement, refractory products and recyclables. Big Bag bulk containers with liners are an excellent choice for management of waste.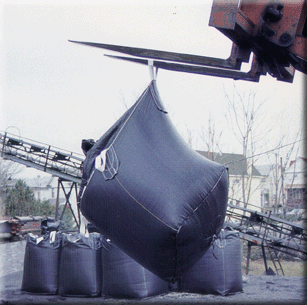 Why Big Bag?
Competitively priced with other industrial packaging, Big Bags are the most cost efficient means of utilizing transportation and storage. Big Bags may be stacked without pallets minimizing wasted space. Rail cars, flat beds and closed trailers, barges and ships can be loaded to maximum capacity. A forklift can accommodate most loading and storage applications.
Important Advantages:

1. Safety - Big Bag containers have a 6 to 1 lifting safety factor. With tubular design the risk of side seam failure has been reduced.

2. Cleaner environment - Fill and discharge spouts control dust during filling and emptying reducing the risk of fire and providing a cleaner and healthier work place.

3. Less risk of damage - An inserted polyethylene liner and/or lamination makes the Big Bag moisture resistant as well as stronger than other flexible containers.



4. Lower costs – Rapid filling and less shipping damage with these containers reduce operating costs, and a collapsed bag stores in only 5% of its filled volume.

5. Enhanced appearance – White (FDA Approved), clean Big Bag containers with high quality printing of your name or logo create a positive presentation.

Big Bag flexible intermediate bulk containers are being integrated into material handling systems worldwide. Call now to learn how you can reduce costs, save space, and improve your product shipments with this modern packaging system.
STANDARD FEATURES
Anti-sift tubular woven polypropylene
Fabric weights of 3 oz., 5 oz., 6.5 oz., and 8 oz.
White (FDA approved)
UV & static inhibitors
Base size: 35" x 35"
Spout size: 14" diameter x 17" long
Lift loops: Four 10" long @ 5000 lb. test
Moisture-resistant coated fabric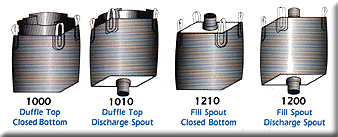 Configurations:
B – duffle top, closed bottom
BD – duffle top, discharge spout
V1 - fill spout. Closed bottom
V2 - fill spout, discharge spout

Standard Base Dimensions
Height (inches) Volume (cu. Ft)
30 25
42 35
54 45
66 55
78 65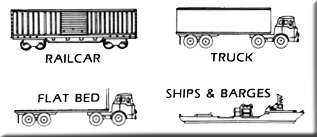 Big Bag containers are shipped everywhere!
OPTIONAL FEATURES:
Base dimensions: 41" x 41", 37.4" x 37.4", 36.2" x 36.2": 34.5" x 34.5"

U.N. approved and certified

Black or yellow

Specially designed lift loops

Crane loops for single point pickup

Rope lock for controlled remote discharge

Glued or inserted Polyethylene liners

Offset printing

Document holders

Optional Base Dimensions
U-Panel (inches) Circular (inches)
31 x 31 37 x 37
35 x 41
37 x 37
41 x 41
Custom sizes and designs available on request. Design approval within one week. New designs have an 8 week cycle time. Modifications from standard designs have a 3 – 4 week cycle time.

No minimum order is required for Big Bags stock items. For special orders, a minimum order of 25 units is required. Discount pricing on orders of significant quantity is available.
The specifications listed above are correct to the best of our knowledge. Except when agreed to in writing for specific conditions of use, no warranty or guarantee, either expressed or implied, is made regarding performance since specific circumstances of use and handling are generally beyond our control.
TO ORDER
BIG BAG CORPORATION
P.O. Box 1600
Wilkes-Barre, PA 18705
Phone: 1-800-752-7324 / 570-823-0233 / Fax: 570-829-4515